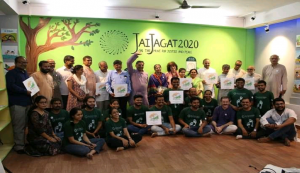 Jai jagat is an initiative to bring change allover the world through the non-violent ways.It is a global march which is going to take place on 2nd of October 2019 from India's delhi city and will be travelling to many other countries like Belgium, France, Germany, Sweden, Sengal, Spain and lastly to Geneva. The marches will be welcomed by the City of Geneva.It is a people's action that will raise issues faced by local people worldwide, and address it with global institutions and policy makers.
The pillars of jai jagat are as follows:-
Eradication of poverty.
Eliminating social exclusion.
Acting on the climate crisis.
Halting conflict and violence.